Meet Dr. Paul Baird
After 23 years, I am finally learning how chiropractic can change your life. But, before we get to that, let me tell you a little about myself.
My Chiropractic Journey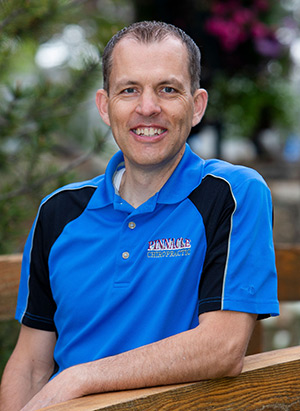 Before I went to chiropractic school, I had never received a chiropractic adjustment. Because of this, my path to becoming a chiropractor has been different than most. Prior to becoming a chiropractor, all I knew about the profession was that they took time with their patients, they worked on finding the cause of the problem instead of just treating symptoms, and they worked directly with the body.
Also, I was fairly frustrated with traditional medicine. You see, ever since I was a kid, all the way to adulthood, I was getting "sick" every 3 to 6 months. But every time I would go to my family doctor, he would say, "you are the healthiest man in 10 states, take some antibiotics." I kept thinking if I am that "healthy," then why am I so sick.
As I was looking at which branch of medicine I wanted to learn, this and some other personal experiences lead me to choose chiropractic…a choice I would make again.
Educational Experience
My education to become a chiropractor started many years prior to me ever setting foot inside a chiropractic college. At a young age I started performing music, dance, choir, band, theater and anything else I could. This lead to 15 years of dancing where I was able to perform professionally and travel locally, and internationally. I received my Bachelor's Degree in Dance from Brigham Young University. During this time of trying to perfect my ability as a dancer, I came to appreciate how magnificent the body is if treated properly. The body can do amazing things if trained and taken care of correctly. The more I learned about the body the more I realized that I wanted to have a profession where I could help people know how to care for their body.
That education of how amazing the body is continued as I started and completed chiropractic school at Palmer College of Chiropractic West in San Jose California. The more I learned, the more phenomenal the body and what it can do became.
Practice Philosophy
Now that I have been in practice since 2003, I have spent a total of 23 years learning and working with people on how to make their bodies function at the most optimal level. And finally after those 23 years, I am truly starting to understand what the body needs to function at an optimal level. The answer, a fully functional and healthy nervous system. This is true for the newborn, child, teenager, adult, and the aged.
We live our lives through our nervous systems. Every thing we see, smell, taste, touch, and hear is all processed through our nervous system. Every cell in our body is controlled by our nervous system. That being said, if the nervous system is not functioning correctly, then can we really live our lives fully? No! Our body won't function correctly. That is why as a Chiropractor, I work with my patients to remove nerve interference for people of all ages. I want all the people in my community to live a full, functional and healthy life. That starts with chiropractic adjustments, as well as spinal strengthening, exercise, stretching, proper sleep, and healthy nutrition.
A Little About Me
I am married to my wonderful wife, Angela, and we have 3 children: Spencer, Lydia and Jackson. We have lived in Lehi since 2005, and love this community. Out of a desire to see this community thrive, I have spent several years serving in the Lehi Area Chamber of Commerce, and in 2008, served as Chairman of the Board.
In my spare time, I love being with my family. I love to be outdoors in the mountains or down in the red rock deserts of Southern Utah. We are also a family that loves to visit the magical kingdom of Disneyland when the opportunity arises. Everybody got a laughing place and that is one of ours.
The longer I am in chiropractic, the more I come to understand that having optimum health is a lifestyle–it doesn't just happen! I like to call this the "Chiropractic Lifestyle" which includes regular chiropractic adjustments (1-2 times a month), healthy eating habits, appropriate exercise and stretching, and proper sleep. I have found that as my family and I live this lifestyle, we are able to do the things we want to do, have less sickness, and are more happy.
Thanks for taking the time to get to know me and what we at Pinnacle Chiropractic & Spinal Rehabilitation have to offer you. Like I said, after 23 years of working with the body, I am finally realizing how vital a roll chiropractic care should play in the lives of every one. The answer to many of the health care problems that we see today, can be found in and through chiropractic.
Are you a good candidate for chiropractic care? Find out! Contact us today!
---
Pinnacle Chiropractic | (801) 766-4741